Our Focus

Since Wawa opened its first store in 1964, community relationships have been at the heart of Wawa's purpose – from championing important causes, to in-store fundraising, to volunteering at community events. The Wawa Foundation will build on that 50-year legacy, while focusing its giving on three main areas: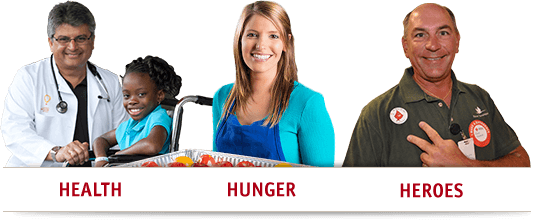 Health
The Wawa Foundation will provide funding to organizations committed to saving and improving lives in the communities Wawa serves. Specifically, The Wawa Foundation will support organizations dedicated to the care and treatment of people in need in Wawa's areas of operation.
Wawa's business is based on serving others. Wawa's founding family, the Wood family, began the culture of giving back to its communities by supporting the growth and expansion of The Children's Hospital of Philadelphia® and Riddle Memorial Hospital in the 1960s. Wawa leadership has continued the practice of serving and helping institutions that serve their communities. The commitment to give back to the community has been fundamental to Wawa's existence.





Hunger
The Wawa Foundation will play a leading role in hunger relief in the communities Wawa serves. To achieve this, we will support programs that create food access for people in need through partnership with regional suppliers and local food banks.
Standing up in the fight against hunger drives us each and every day. Wawa's origins as a dairy and establishment as a food retailer compel us to continue this fight…and win. From our commitment to raising funds for local food banks, to donating product, to piloting programs to ensure food is not wasted, we will continue to fight hunger so no one in Wawa's communities go hungry.


Heroes
The Wawa Foundation will support and celebrate our everyday heroes, including crisis responders, individuals serving in our military and our veterans. We are committed to helping and enabling those who serve – we call them "Everyday Heroes." Wawa is service oriented, so it's natural for us to lend a helping hand to those who serve and protect. The men and women of the U.S. Armed Forces help us enjoy freedoms every day, and we are honored to do our part to provide our support to organizations that enrich and uplift our troops and their families. We're also committed to first responders like local firefighters and police officers for all they do to keep the communities that Wawa serves safe and secure.