Featured Charity Partner:
The USO is a national partner with Wawa and the Wawa Foundation in 2019

For more than 78 years, the USO has been dedicated to its mission to strengthen America's service members by keeping them connected to family, home and country, throughout their service to the nation.
With more than 230 locations worldwide and more than 30,000 volunteers, the USO is united in its commitment to serve our service members and their families through countless acts of caring, comfort and support.
Last year the USO had 12.1 million interactions with service members at USO centers and through programs and services around the world.
Overall, Wawa funding helps the USO support:
• Active Duty, National Guard and Reserve
• Military Families
• Transitioning Service Members and their Families
• Wounded, Ill and Injure
Spotlight:
A Salute to the 2019 Special Olympics Polar Bear Plunge Season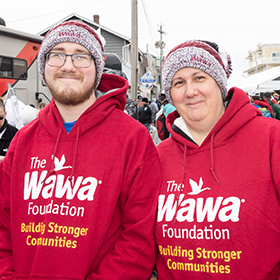 At Wawa, we believe that as a company we have a role in making the world a better place, and for our associates that means fulfilling the lives they touch each and every day whether serving you at our stores, or on Plunge Day.
In 2019, nearly 1,000 associates volunteered their time to taking the plunge and/or serving coffee to those who plunged into icy cold waters to bring awareness and funds for individual with intellectual disabilities.
Together, the Wawa Team and The Wawa Foundation raised nearly $130,000 for Special Olympics. We're proud of our associates and the impact made in our community.
Our National Partners:
We're proud to work alongside these national charity partners