Featured Charity Partner:
The American Red Cross is a corporate wide partner with Wawa and The Wawa Foundation in 2021

One of our most time-honored and critical partnerships is the one we share with the American Red Cross. In fact, for more than 20 years we've been proud to support the critical work of the Red Cross through a variety of in-store fundraising activities, events, and donations. From providing funds for disaster relief to staffing blood drives with Wawa volunteers, everyone in the Wawa family works together to make this meaningful collaboration stronger each year.
The Red Cross prevents and alleviates human suffering in the face of emergencies by mobilizing the power of volunteers and the generosity of donors. Your gift to American Red Cross Disaster Relief enables the Red Cross to prepare for, respond to and help people recover from disasters big and small.
All states and 25 local Red Cross chapters will benefit from coin collections. Overall, Wawa funding will support American Red Cross Disaster Relief, helping people affected by disasters like home fires, floods and countless other crises. Our gift helps the Red Cross be ready to respond to disasters 24/7 across the United States.
At Wawa we play many important roles in our communities, but one that we hold closest is that of, 'care giver'; our partnership with the Red Cross is one of the critical ways we are able to fulfil customers' lives in this way.
The American Red Cross name, emblem and copyrighted materials are being used with its permission, which in no way constitutes an endorsement, express or implied, of any product, service, company, opinion or political position. The American Red Cross logo is a registered trademark owned by the American National Red Cross. For more information about the American Red Cross, please visit redcross.org.
Spotlight:
A Salute to the 2019 Special Olympics Polar Bear Plunge Season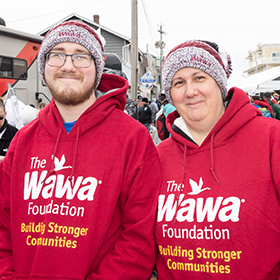 At Wawa, we believe that as a company we have a role in making the world a better place, and for our associates that means fulfilling the lives they touch each and every day whether serving you at our stores, or on Plunge Day.
In 2019, nearly 1,000 associates volunteered their time to taking the plunge and/or serving coffee to those who plunged into icy cold waters to bring awareness and funds for individual with intellectual disabilities.
Together, the Wawa Team and The Wawa Foundation raised nearly $130,000 for Special Olympics. We're proud of our associates and the impact made in our community.
Our National Partners:

We're proud to work alongside these national charity partners