Featured Charity Partner:
Check-Out Hunger® is a 2022 National Partner of Wawa and The Wawa Foundation.

Hunger has risen across America due to the COVID-19 crisis and its impact on the economy. As many as 38 million people, including 12 million children, may face hunger in 2022 and beyond.
• The Feeding America network of food banks need help now more than ever! The food banks have also risen to meet the biggest challenge in their history. They are working harder and feeding more in your local area and across the country.
• Wawa is proud to support Check-Out Hunger, which is marking its 31st Year of providing Food, Help and Hope to those in need in our communities.
• The donations to Check-Out Hunger at the Wawa stores benefit 26 Feeding America Food Banks.
• The core mission of all the Feeding America Food Banks is to do all that they can to feed those in need and to raise awareness about the problem of hunger in our communities.
• All of the donations collected at Wawa for Check-Out Hunger goes to the Feeding America Food Bank that serves each store's community.
Spotlight:
Fulfilling Lives at the JDRF One Walk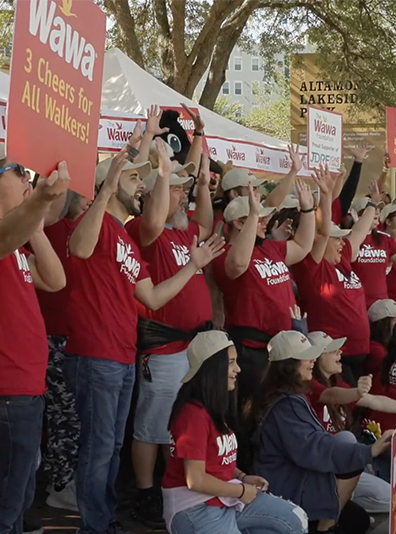 Wawa and The Wawa Foundation have supported JDRF over the past 20 years and our associates enjoy supporting their mission of creating a world without T1D through in-store fundraising campaigns and community walks.
Our National Partners:

We're proud to work alongside these national charity partners