Featured Charity Partner:
The Leukemia & Lymphoma Society (LLS) is a national partner with Wawa and the Wawa Foundation 2023

The Leukemia & Lymphoma Society (LLS) aims to cure blood cancers and
enhance the lives of patients and families.

• Research: LLS funds innovative research for better treatments and invests in breakthrough discoveries.
• Support: LLS provides free resources, financial aid, and support services to assist patients and caregivers.
• Advocacy: LLS advocates for policies that prioritize research, access to treatments, and improved patient care.
• Fundraising: LLS organizes campaigns and events to raise funds and engage the community.
• Awareness: LLS educates the public about blood cancers, their symptoms, and the importance of early detection.
• Collaboration: LLS partners with organizations, researchers, and industries to accelerate progress and bring new therapies to patients.
Spotlight:
Fulfilling Lives at the JDRF One Walk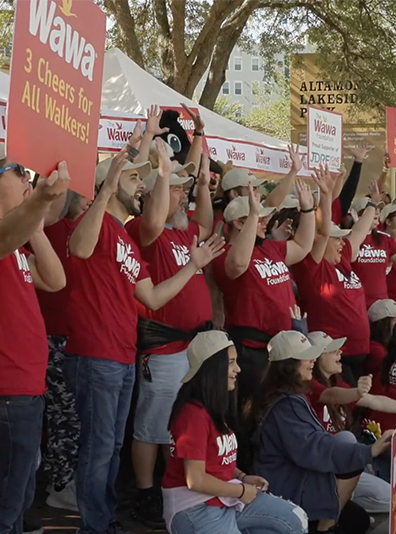 Wawa and The Wawa Foundation have supported JDRF over the past 20 years and our associates enjoy supporting their mission of creating a world without T1D through in-store fundraising campaigns and community walks.
Our National Partners:

We're proud to work alongside these national charity partners