Featured Charity Partner:
The American Red Cross is a corporate wide partner with Wawa and The Wawa Foundation in 2023

One of our most time-honored and critical partnerships is the one we share with the American Red Cross. In fact, for more than 20 years we've been proud to support the critical work of the Red Cross through a variety of in-store fundraising activities, events, and donations. From providing funds for disaster relief to staffing blood drives with Wawa volunteers, everyone in the Wawa family works together to make this meaningful collaboration stronger each year.

• The Red Cross prevents and alleviates human suffering in the face of emergencies by mobilizing the power of volunteers and the generosity of donors. Your gift to American Red Cross Disaster Relief enables the Red Cross to prepare for, respond to and help people recover from disasters big and small.
• All states and 25 local Red Cross chapters will benefit from coin collections.
• Overall, Wawa funding will support American Red Cross Disaster Relief, helping people affected by disasters like home fires, floods and countless other crises. Our gift helps the Red Cross be ready to respond to disasters 24/7 across the United States.

At Wawa we play many important roles in our communities, but one that we hold closest is that of, 'care giver'; our partnership with the Red Cross is one of the critical ways we are able to fulfill customers' lives in this way.
Spotlight:
Fulfilling Lives at the JDRF One Walk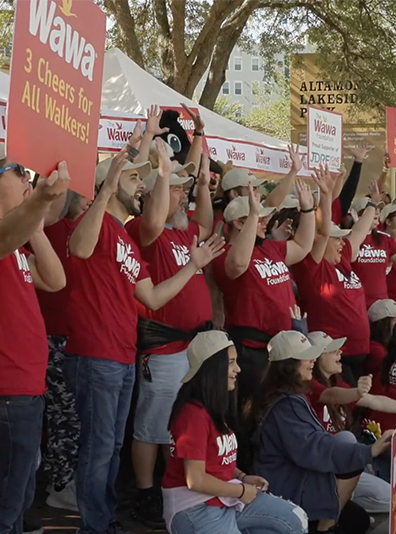 Wawa and The Wawa Foundation have supported JDRF over the past 20 years and our associates enjoy supporting their mission of creating a world without T1D through in-store fundraising campaigns and community walks.
Our National Partners:

We're proud to work alongside these national charity partners